Description: The revolutionary Cooper
Bussmann
® CCP is 1/3 the footprint of a circuit breaker. The level of protection provided by the CCP is up to three times the Short-Circuit Current Rating (SCCR) at full voltage than a molded case circuit breaker while providing disconnecting means.
Ratings:
• Box Lug Connection: 18-6 AWG single or dual rated, solid or stranded – 75°C or higher - Cu only, 4 AWG single – 75°C or higher - Cu only.
• Spade Terminal Connection: Max. 30A suitable for use with #8-32 UNC screw.
• Box Lug and Spade Terminal suitable for line, load or accessory connection.
• Torque 0-60A: 18-10 AWG 20 lb-In 8-4 AWG 35 lb-In.
• Torque 100A: 18-10 AWG Single 25 lb-In 8-2 AWG Single 35 lb-In 1 AWG Single 40 lb-In 6 AWG Dual 45 lb-In
• Lockout/tagout: 4mm shank lock or standard pin-out devices.
• 35mm DIN rail mount.
• Local indication minimum operating voltage: 90Vac/115Vdc.
Agency Information:
UL 98 Listed, File E302370, Guide WHTY cULus to CSA Standard 22.2 No. 4-04, File 302370, Guide WHTY7 CE Compliant
Environmental Data:
Storage and operating temperature: -20ºC to 75ºC**
**For fuse performance under or above 25ºC, consult fuse performance derating charts in the
Cooper Bussmann
publication titled Selecting Protective Devices (SPD)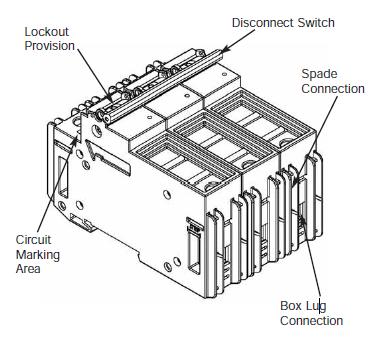 Features and Benefits:
• Uses finger-safe Class CF Low-Peak® CUBEFuse® with Class J performance
• Extremely compact design at 25.4mm (1 inch) wide per pole
• High Short-Circuit Current Ratings at 200kA
• Disconnect rated to provide means for load isolation
• Full voltage rated at 600Vac
• UL 98 Listed and suitable for branch circuit disconnect and branch circuit protection
• 1-, 2- and 3-pole versions are horsepower rated
• Complies with UL and CSA
• Open Fuse Indication:
- Local fuse indication lights* are standard
- Optional wired remote open fuse indication can be utilized to signal a PLC and open a contactor to de-energize all phases, if required
• Additional open fuse indication can be provided by the CUBEFuse®
• IP20 finger-safe construction with 10 AWG wire or larger
• Built-in switch interlock capability prohibits removing the fuse under load
• Padlockable handle for lockout/tagout procedures
*Circuit must be closed for indication light to illuminate
Technical Ratings
Catalog Number
Poles
Amp Rating
Voltage Rating
Fuse Type
Max.Fuse Ampacity
SCCR
Agency Approvals
Hp Ratings
CCP-1-30CF
1
30
600Vac/125Vdc
Class CF CUBEFuse*
30A
200kA
UL 98 Listed cULus 22.2 No.4-04
1.5Hp@120V
CCP-2-30CF
2
3.0Hp@240V
CCP-3-30CF
3
5Hp@240V 15Hp@480V 10Hp@600V
CCP-1-60CF
1
60
60A
3.0Hp@120V
CCP-2-60CF
2
7.5Hp@240V
CCP-3-60CF
3
7.5Hp@240V 20Hp@480V 10Hp@600V
CCP-1-100CF
1
100
600Vac
100A
5Hp@120V
CCP-2-100CF
2
10Hp@240V
CCP-3-100CF
3
20Hp@240V 50Hp@480V 50Hp@600V
*Class J performance.