Description:
Low voltage fuses that comply with general purpose gG characteristics and available up to 400A with two hole mount and up to 1250A with four hole mount.
Construction: Ceramic body
Ratings:
Volts: 415/550Vac, 250Vdc
Amps:
2-400A
63M80-400M500A Motor Starter ratings
IR: See Catalog Numbers table
Agency Information: CE, Meets the requirements of BS 88 Parts 1 and 2 and IEC 60269-1.
Mounting: Center bolted blades, two-hole mount.
---
CATALOG SYMBOL: AC
INDUSTRIAL HRC FUSE
CENTER BOLTED TAGS
PACKAGE QUANTITY: 20
80kA INTERRUPTING RATING
MOUNTS ON BH-0111 MODULAR FUSEBLOCK
Dimensional Data:
Electrical Characteristics
Catalog Number
Ampere Rating
I2T (Amp2 Seconds)
Nom Watts Loss
Rated Voltage
Dimensions (Inches/mm)
Pre-Arcing
Total At 415V
Total At 550V
A
B
D
E
F
G
H
J
AC2
2A
1.2
3.1
3.8
1.2
550VAC 250VDC
55
21
113.5
0.50 / 12.7
0.06 / 1.6
97.5
7
13.5
AC4
4A
11
31
38
1.4
AC6
6A
32
90
125
1.8
AC10
10A
20
60
80
2.4
AC16
16A
85
240
320
2.9
AC20
20A
220
580
770
3.1
AC25
25A
500
1400
1850
3.2
AC32
32A
1000
2760
3700
3.5
Time-Current Characteristic Curve (Full Size Curves Available)
---
CATALOG SYMBOL: AD
INDUSTRIAL HRC FUSE
CENTER BOLTED TAGS
PACKAGE QUANTITY: 20
80kA INTERRUPTING RATING
MOUNTS IN 200DF FUSEHOLDER
Dimensional Data:
Electrical Characteristics
Catalog Number
Ampere Rating
I2T (Amp2 Seconds)
Nom Watts Loss
Rated Voltage
Dimensions (Inches/mm)
Pre-Arcing
Total At 415V
Total At 550V
A
B
D
E
F
G
H
J
AD2
2A
1.2
3.1
3.8
1.2
550VAC 250VDC
55
21
5.06 / 128.5
14.2
1.4
111.5
0.34 / 8.7
11.8
AD4
4A
11
31
38
1.4
AD6
6A
32
90
125
1.8
AD10
10A
20
60
80
2.4
AD16
16A
85
240
320
2.9
AD20
20A
220
580
770
3.1
AD25
25A
500
1400
1850
3.2
AD32
32A
1000
2760
3700
3.5
Time-Current Characteristic Curve (Full Size Curves Available)
---
CATALOG SYMBOL: BC
INDUSTRIAL HRC FUSE LINK
CENTER BOLTED TAGS
PACKAGE QUANTITY: 20
80kA INTERRUPTING RATING
MOUNTS ON BH-0111 MODULAR FUSEBLOCK
Dimensional Data:
Electrical Characteristics
Catalog Number
Ampere Rating
I2T (Amp2 Seconds)
Nom Watts Loss
Rated Voltage
Dimensions (Inches/mm)
Pre-Arcing
Total At 415V
Total At 550V
A
B
D
E
F
G
H
J
BC40
40A
1400
3600
5000
4.7
550VAC 250VDC
55.5
21
113.5
0.50 / 12.7
0.06 / 1.6
97.5
7
13.5
BC50
50A
3000
8050
11,250
4.9
BC63
63A
6700
18,850
25,100
5.6
BC63M80
63M80
12,600
33,900
50,000
7.2
550VAC
BC63M100
63M100
24,000
72,900
90,000
8.5
Time-Current Characteristic Curve (Full Size Curves Available)
---
CATALOG SYMBOL: BD
INDUSTRIAL HRC FUSE LINK
CENTER BOLTED TAGS
PACKAGE QUANTITY: 20
80kA INTERRUPTING RATING
MOUNTS IN 200DF FUSEHOLDER
Dimensional Data:
Electrical Characteristics
Catalog Number
Ampere Rating
I2T (Amp2 Seconds)
Nom Watts Loss
Rated Voltage
Dimensions (Inches/mm)
Pre-Arcing
Total At 415V
Total At 550V
A
B
D
E
F
G
H
J
BD40
40A
1400
3600
5000
4.7
550VAC 250VDC
55.5
21
5.06 / 128.5
14.2
1.4
111.5
0.34 / 8.7
11.8
BD50
50A
3000
8050
11,250
4.9
BD63
63A
6700
18,850
25,100
5.6
Time-Current Characteristic Curve (Full Size Curves Available)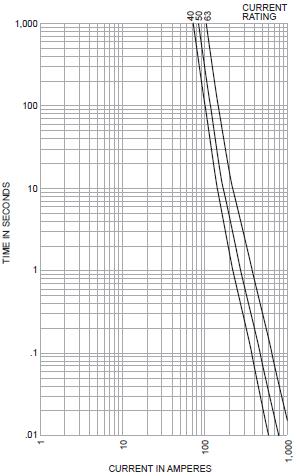 ---
CATALOG SYMBOL: CD
INDUSTRIAL HRC FUSE
CENTER BOLTED TAGS
PACKAGE QUANTITY: 10
80kA INTERRUPTING RATING
MOUNTS IN 200DF FUSEHOLDER
Dimensional Data:
Electrical Characteristics
Catalog Number
Ampere Rating
I2T (Amp2 Seconds)
Nom Watts Loss
Rated Voltage
Dimensions (Inches/mm)
Pre-Arcing
Total At 415V
Total At 550V
A
B
D
E
F
G
H
J
K
CD80
80A
13,000
35,200
50,000
7.2
550VAC
58.6
21
126.5
14.3
3.2
111
8.7
11.1
21
CD100
100A
25,000
76,500
95,600
8.5
CD100M125
100M125
57,000
150,000
-
11
415VAC
58
26
126
14.3
3.2
110.5
8.7
11.1
26
CD100M160
100M160
72,500
190,000
-
13
CD100M200
100M200
120,000
290,000
-
14
47
31
136
19
3.2
111
9
12.5
31
Time-Current Characteristic Curve (Full Size Curves Available)
---
CATALOG SYMBOL: DD
INDUSTRIAL HRC FUSE
CENTER BOLTED TAGS
PACKAGE QUANTITY: 5
80kA INTERRUPTING RATING
MOUNTS IN 200DF FUSEBLOCK
Dimensional Data:
Electrical Characteristics
Catalog Number
Ampere Rating
I2T (Amp2 Seconds)
Nom Watts Loss
Rated Voltage
Dimensions (Inches/mm)
Pre-Arcing
Total At 240V
Total At 415V
A
B
C
D
E
F
G
H
J
DD125
125A
29,500
50,000
71,000
11
415VAC
136
111
47
9
12.5
19
0.13 / 3.23
22.5
1.22 / 31.0
DD160
160A
57,000
97,000
135,000
13
DD200
200A
120,000
205,000
290,000
14
DD200M250
200M250
200,000
-
480,000
18
DD200M315
200M315
265,000
-
635,000
27
Time-Current Characteristic Curve (Full Size Curves Available)
---
CATALOG SYMBOL: ED
INDUSTRIAL HRC FUSE
CENTER BOLTED TAGS
PACKAGE QUANTITY: 1
80kA INTERRUPTING RATING
MOUNTS ON BH-1131 MODULAR FUSEBLOCK
Dimensional Data:
Electrical Characteristics
Catalog Number
Ampere Rating
I2T (Amp2 Seconds)
Nom Watts Loss
Rated Voltage
Dimensions (Inches/mm)
Pre-Arcing
Total At 240V
Total At 415V
A
B
C
D
E
F
G
H
J
ED250
250A
200,000
340,000
480,000
18
415AC
136
111
47
9
12.5
19
3.2
22.5
31
ED315
315A
265,000
450,000
635,000
22
136
110
50
9
12.5
25.4
4.7
31
38
ED315M400
315M400
475,000
810,000
1,150,000
21
ED355
355A
360,000
610,000
865,000
24
ED400
400A
475,000
810,000
1,150,000
29
ED400M500
400M500
1,200,000
-
2700,000
38
550AC
135.5
114
75
9.5
12.5
25.4
4.7
31.5
59
Time-Current Characteristic Curve (Full Size Curves Available)
---
CATALOG SYMBOL: EFS
INDUSTRIAL HRC FUSE
CENTER BOLTED TAGS
PACKAGE QUANTITY: 1
80kA INTERRUPTING RATING
Dimensional Data:
Electrical Characteristics
Catalog Number
Ampere Rating
I2T (Amp2 Seconds)
Nom Watts Loss
Rated Voltage
Dimensions (Inches/mm)
Pre-Arcing
Total At 415V
A
B
C
D
E
F
G
H
J
EFS125
125A
29,500
71,000
11
415AC
158
133
47
10.5
12.5
19
0.13 / 3.23
22.5
1.22
EFS160
160A
57,000
135,000
13
EFS200
200A
120,000
290,000
14
EFS250
250A
200,000
480,000
18
EFS315
315A
265,000
635,000
22
209
184
133
50
25.4
12.5
10.5
4.7
38
Time-Current Characteristic Curve (Full Size Curves Available)
---
Recommended Fuse Blocks & Holder
| | |
| --- | --- |
| Basic Fuse Catalog Numbers | Block/HolderCatalog Numbers |
| AC | BH-0111 Modular fuse block |
| AD | 200DF Fuse holder |
| BC | BH-0111 Modular fuse block |
| BD | 200DF Fuse holder |
| CD | 200DF Fuse holder |
| DD | 200DF Fuse holder |
| ED | BH-1131 Modular fuse block |