Description:
HRCI-J fast-acting fuses are industrial duty fuses with the excellent current-limiting characteristics of fast-acting HRCI-J fuses to limit damage to equipment and installations by the thermal and magnetic energy associated with a large short-circuit fault current.
Overload characteristics limit cable damage due to low overload currents.
Construction: Ceramic body fuse.
Ratings:
Volts: 600Vac (or less), 250Vdc
Amps: 1-600A
IR: 200kA
Agency Information: CSA C22.2 No. 106 M92; Designed to BS 88:2, IEC 60269-2.
Dimensions
1CJB TO 60CJB
70CJB TO 600CJB
Catalog Numbers
Current Ratings (Amps)
Catalog Number
Dimensions in Inches and (mm)
OLD
NEW
A
B
C
D
E
F
G
H
J
K
1A
3A
6A
10A
15A
20A
25A
30A
1CJB 3CJB 6CJB 10CJB 15CJB 20CJB 25CJB 30CJB
1CJ 3CJ 6CJ 10CJ 15CJ 20CJ 25CJ 30CJ
2.25 (57)
.5 (12.7)
.81 (20.6)
–
–
–
–
–
–
–
35A
40A
45A
50A
60A
35CJB 40CJB 45CJB 50CJB 60CJB
35CJ 40CJ 45CJ 50CJ 60CJ
2.38 (60)
.63 (16)
1.06 (27)
–
–
–
–
–
–
–
70A
80A
90A
100A
70CJB 80CJB 90CJB 100CJB
70CJ 80CJ 90CJ 100CJ
4.63 (117)
3.63 (92)
1.13 (28)
.75 (19)
.13 (3.2)
1 (25.4)
.5 (12.7)
.28 (7.1)
.38 (9.5)
2.63 (67)
110A
125A
150A
175A
200A
110CJB 125CJB 150CJB 175CJB 200CJB
110CJ 125CJ 150CJ 175CJ 200CJ
5.75 (146)
4.38 (111)
1.63 (41)
1.13 (28.6)
.19 (4.8)
1.38 (35)
.69 (17.5)
.28 (7.1)
.38 (9.5)
3 (76)
225A
250A
300A
350A
400A
225CJB 250CJB 300CJB 350CJB 400CJB
225CJ 250CJ 300CJ 350CJ 400CJ
7.13 (181)
5.25 (133)
2.13 (54)
1.63 (41)
.25 (6.3)
1.88 (47.6)
.94 (24)
.41 (10.3)
.53 (13.5)
3.38 (86)
450A
500A
600A
450CJB 500CJB 600CJB
450CJ 500CJ 600CJ
8 (203)
6 (152)
2.63 (66)
2 (51)
.38 (9.5)
2.13 (54)
1 (25.4)
.53 (13.5)
.69 (17.5)
3.75 (96)
Energy Let-Through Curves
Time Current-Curves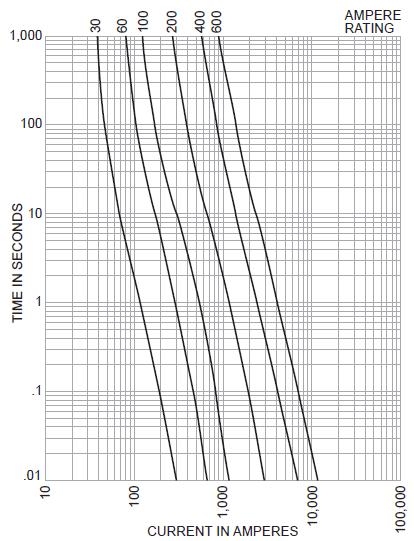 Peak Let-Through Curves